Hi everyone,
I'm looking for some advice/help with regards to diagnosis and treatment.
My story is a long one, which I guess started with a case of *head meets pencil case* at the age of 14 in a French lesson at school. I had enough *head meets desk* episodes that the school brought in my parents to discuss what was going on, but an earlier bedtime didn't really improve anything.
Things got worse as I got older and by the time I reached 17 I was starting to have problems with my knees 'giving out'. I was also falling asleep in many of my lessons and going home at the end of the day exhausted, where by I would crash out on my bed for half an hour or so. When I was in lessons I would get this uncontrollable urge to sleep and there was nothing I could do but let it happen. It felt like my head was repeatedly being pushed down. I used to try and disguise my sleeping attacks by resting my forehead on my hand, covering my eyes, and hoping that nobody would notice or that the teacher would ask me a question. Of course it didn't always work and the teachers would get very frustrated with me!
After my one and only attempt at a job (a bar job) at the age of 18, which ended in several collapses I finally went to the doctors. It was there that after a round of blood tests my doctor diagnosed me with Chronic Fatigue Syndrome. With CFS as a diagnosis I went off to university to read psychology. Unfortunately things there went from bad to very bad. I just couldn't stay awake in my lectures. I would fall asleep with my pen in my hand and when I'd wake up there would be squiggles on the paper. I was sleeping 11/12 hours at night and living through the day as a zombie. I was also having more and more problems with my knees. I assumed they were just weak and put it down to CFS. A couple of times I fell into thorn bushes, just dropped straight down like a stone. I was also having strange issues when swimming. I couldn't make my arms go straight through the water. They would bend at strange angles and my eyelids would start closing on me.
After 4 months I gave up and returned home. I wasn't managing to get to the early morning lectures (9am) and those I was attending I couldn't record much of thanks to the sleeping. The whole thing was a disaster and I just couldn't cope.
6 years later after having got nowhere with the medical profession, who basically closed me out of treatments/tests/help after the CFS diagnosis, and having lived stuck at home I came across a mind training technique called the lightning process. This helped me kick start things again (it was supposed to cure me) and I found myself moving to and living in Sweden. Unfortunately the LP had a nasty side effect in that it couldn't cure me because I didn't have CFS and the sleep attacks and exhaustion caused a lot of anxiety!
My first few years in Sweden were dogged by sleep attacks. I had so much trouble with participating in conversations, within seconds I was staring like a zombie and struggling to keep my head up/eyes open. But I just shrugged it off as adjusting to a new language. My partner and I even developed a new word, which we called "walksleeping". When I first met him we took a trip to Stockholm and it happened on several occasions that I couldn't keep my eyes open whilst walking. I must have looked like I was on something as he dragged me stumbling through Stockholm, head lolling about like a rag doll.
Again I put it down to adjustment and recovering from CFS. Things didn't start to fall into place till last year when I started seeing a psychologist to help me with my anxiety. I had recently started back at university and they same things were happening all over again. I couldn't stay awake! I was also having problems with my arms when trying to fight off sleep attacks. They would feel really funny and I couldn't make them work. Gripping a pen became almost impossible. The feeling would make me laugh and the more I laughed the worse it got! My psychologist quickly realised that my inability to stay awake was a main factor if not the factor behind my anxiety, she suggested I look up Narcolepsy and it was like my whole life just fell into place. She sent a referral to my GP who sent me to an Apnea specialist and a neurologist.
The Apnea specialist told me I was imagining things and that my old diganosis of CFS was probably right. He said nobody could go 14 years without being diagnosed and that Narcolepsy was a serious illness and that I was probably just dozing off in my lectures (which was normal, apparently!). The neurologist on the other hand thought I had classic narcolepsy symptoms and sent me for a PSG and an MSLT. Unfortunately the anxiety reared its ugly head when I took those tests and for the life of me I just couldn't sleep (I am also on and was at the time citalopram). I don't fall quickly asleep and that is the one thing that really differs with me and Narcolepsy. It takes me a while to "turn off my brain" at night and when I take a nap (provided it isn't a sleep attack) even when I am really exhausted. Anyway. The results of the PSG and MSLT showed that I had disturbed sleep (though not a typical narcolepsy pattern) and they recommended further testing. Whereby I had a genetic test done, which proved negative. All of this took a year (with waiting times and appointment times).
After the genetic test they sort of forgot about me and as it was the summer and I wasn't at school I tried to forget about them and narcolepsy...with the vain hope that when I returned after the summer my sleep attacks would have magically disappeared.
Well I am back at school, 28 years old and sleeping my way through 80% of my lectures. After a particularly awful lecture, which resulted in 3 hours of drifting in and out of sleep and returning home an hour early I went back to the doctor. I got a phone call from my neurologist who suggested I try Ritalin. I still don't have a diagnosis one way or the other and she has prescribed it out to me for narcolepsy. I have a box of the stuff sitting in my bathroom cabinet...but I am reluctant to try it. I am coming off of citalopram at the moment and I am worried that it might send me off on an anxiety trip. However I am worried about my school. I can't get through my reading, I start getting sleepy after a couple of pages and have to take a nap. I also struggling with the lectures and the earlier they are the worse I seem to be.
Does anyone have any advice? Is ritalin a good thing to try, especially with anxiety? Should I ask for more testing to try and get to the bottom of my sleeping issues? I think some of me is very narcolepsy, but I don't have SP and don't think I have HH and I am not sure about Cataplexy. I also don't know about my sleep...I have no idea if I go into REM sleep or not...? I also don't fall asleep everyday (usually only when being inactive or passive, then I start to get sleepy or switch off instantly) or have to take naps (provided I get to sleep about 10+ hours a night). I really don't know what to think and I have nobody to compare notes with. I was so glad when I found this forum!!!
I am very confused and very frustrated, I just want to feel like a human being and not a "the lights are on but nobodies home" zombie. I bought a Zeo in the summer to see if I could make out some sort of pattern but my sleep is different every night. On average I get about 40% REM, 10% SWS and wake up A LOT like 12+ times a night. This is what I recorded last night.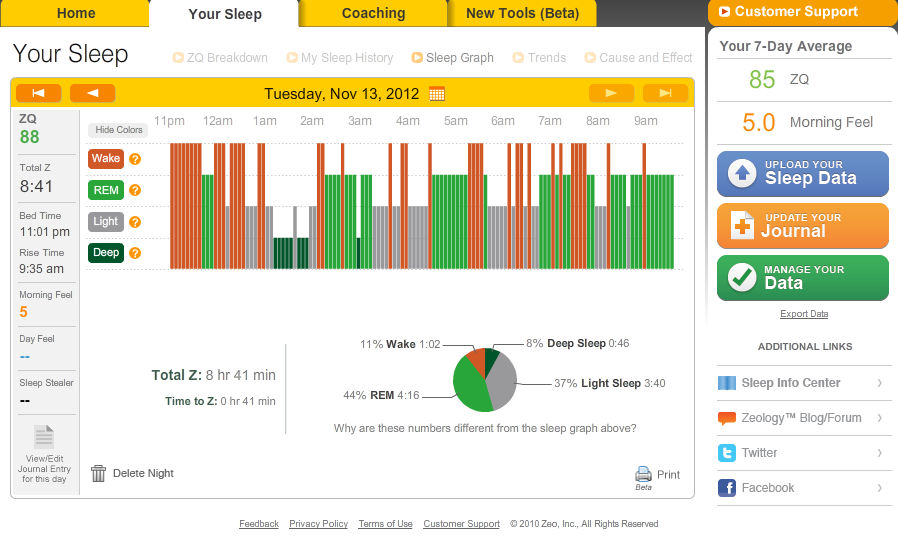 Thanks for reading this!!!
Amanda